What we do:
As part of our income-generating housing initiative, E+O has developed construction materials and modular designs that are affordable as well as durable (25+years). They have been tested to withstand 8.5 earthquakes and 127 mph winds. We have also trained a core team of carpenters in how to build these structures in a matter of days.
In addition, we have worked with local partners in India to create and deliver safe construction training workshops for builders, carpenters and masons, as well as for housing finance institutions and consumers. E+O recognizes that a holistic approach involving everyone in the construction of a house and/or workplace is the only way to ensure that the safe construction loop can be closed.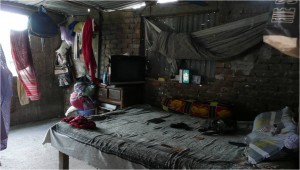 Why we do it:
1.6 billion people live in substandard housing worldwide; in South and Southeast Asia, 167 million people live in dwellings made from temporary materials.
As workers in the developing world flood urban and peri-urban areas to take advantage of manufacturing jobs, they struggle to find housing. They are locked out of real estate developments, have no access to housing finance, and are left with little choice but to build their houses themselves. These structures are unsafe, unhygienic,  with very little light and ventilation. Maintenance costs are high, which eats into disposable income.
How we do it:
We partner with ARUP to optimize our housing initiative's designs and manufacturing process to ensure that our modular structures are safe, as well as easy to build.
With the generous support of the Cisco Foundation, we have created a mobile outreach platform that enables us to contact builders and laborers, as well as housing finance institutions and their clients, to offer targeted safe construction training workshops.
These workshops have provided:.
information on common construction mistakes and challenges, and how to correct them affordably
guidance and resources on each phase of construction, from the foundation to the roof, and how to make choices that maximize safety, health, and budget
tips on how to design and build a safe structure that can be added to incrementally, as a family's budget dictates
ideas on how to run a home-based business, so that any structure can become a place to work as well as live
E+O is now working to scale our safe construction work by employing a variety of technologies, including a mobile communications platform and multi-media information kiosks.